Cables
Our FAST cable assembly system from Felsted enables us to manufacture custom control cables per your sample or print. We can make a variety of sizes and configurations, including push-pull, HD tension, universal, vernier, locking, PTO, RVC, RVO and mixer cables. We offer a selection of levers, control towers and hardware accessories.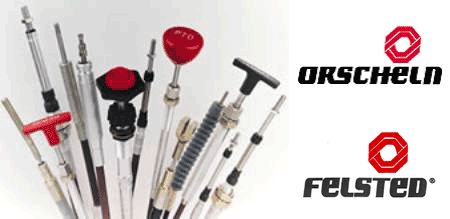 The FAST system offers a Hi-Performance proprietary coating over 1x7 wire rope. This construction offers improved flexibility, higher push loads than armor core construction. Solid stainless steel cores are available in 3 Series push-pull, universal, positive lock and PTO cables. HD Tension cables utilize a 1x19 HP coated core, while 8 series push-pull cables employ armor core. All Felsted brand cables utilize polymer liners, available in standard HP or HEFT high temperature versions. Assembly lubrication provides optimum core performance without requiring further service.
*** WHILE-U-WAIT Cables ***
Please contact us for pricing and availability for your product needs.